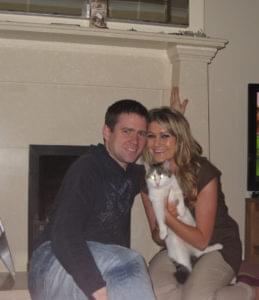 This one-year-old little kitty was a curious little fella, he loved exploring the fields around about.  He used to use his cat flap every day and have lots of little adventures but always be home in time for his dinner and lots of cuddles!
One Saturday morning Busby went off on his travels and never returned home for his dinner.  His owners and neighbors spent hours looking for him around the estate and put up adds on the Internet and in the estate but Busby never came home.  Everyone missed him so much especially his owners Jeanita and Conor.
Almost three weeks went past and his owners nearly gave up hope until Robert from Happy Tails Pet detective Agency called.  Robert gave Busby's owners a glimpse of hope.  A little cat who matched Busby's description had been found in Ballinteer.  Busby's owners thought this was very far for Buz to get to on his own because his home was in Sandyford, but Robert assured them that it is a regular occurrence for cats to get into vehicles and end up in places far from their home.
To Jeanita and Conor's delight, it turned out to be Busby!  They were over the moon so were all their neighbors that Busby was safe and sound.  Busby had been outside Chartbusters in Ballinteer for 2 days trying to rent a DVD when A lovely lady called Imelda has found him!  Imelda took Buz home and looked after him so well but wanted to find his owners, so she put up lots of adds everywhere.  Thankfully the pet detectives put 2 and 2 together and Busby was reunited with his owners.
Busby is a happy little kitty now, chilling out and taking plenty of naps inside, his adventures in Ballinteer are well and truly over and he has since been microchipped.  We don't think he'll be hitching a ride to Ballintee anytime soon!  Thanks to Happy Tails pet Detective Busby is happy at home with his owners.